About Me
Hello.
My name's Mike and own and run OldSkoolPixels.com
I've owned computers in various forms since 1976 when my father bought me a Videomaster Superscore "pong" game. I was hooked ever since. The first real computer I owned was a Sharp MZ-80K which I bought in 1978. After that, I went through the usual assortment of computers and consoles, including most notably, the ZX Spectrum, and the computer nearest to my heart, the Commodore 64. I spent a few years writing demos on the C64, and eventually level-upped to programming some commercial computer games, the last one being Reckless Rufus, which was released in 1993.
I've loved retrogaming since before it was called retrogaming!

2012 was the 30th anniversary of the launch of the Commodore 64, so I decided to produce a tribute video, "8-Bit Legend". Parts of the video included 3D visualisations of some classic 2D Commodore 64 games. Over the years, I received many great comments about the video, and there seemed to be a lot of interest in the reimagined-in-3D C64 screenshots I produced, so much that eventually, years later, I decided to create many of the pictures you see on this site.
Put simply, I take a screenshot the original 2D "flat" game screens, and create new 3D versions from scratch, trying to keep as close to pixel-for-pixel accuracy as I can. For example, here's an original screenshot of Little Computer People on the Commodore 64:
And here's the same game, reimagined in 3D: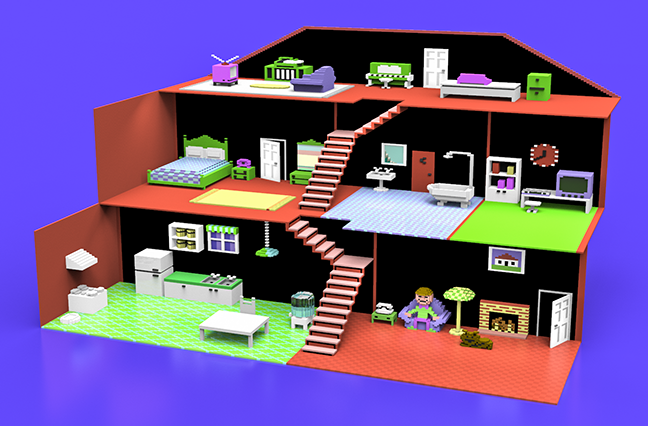 Note: these images are of course not direct copies of the original artwork; they are "transformative" fan art images. Of course these days it would be easy to add a lot more realism by combining them with real-world textures etc. but that would take away from the old school magic of the original games. These are, as much as possible, exact 1:1 depiction of their 2D counterparts, except they're in 3D instead!
There will be regular updates to this site, with many more 2D-3D conversions in the pipeline, so please keep checking back.
Please feel free to contact me if you have any questions or suggestions at all. I try to answer all emails within 24 hours, and usually more quickly than that.
Thanks for reading, and I hope you enjoy the site.

Mike.