Click image to enlarge
Boulder Dash (a) - ZX Spectrum
All prints are supplied with an optional wall hanging mount.
Another great conversion on the ZX Spectrum. Boulder Dash is a must-have game and has the replay factor in spades.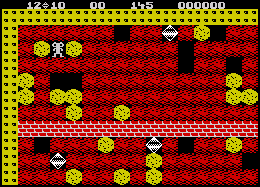 Original Version
Aluminium Print Size (cm)
Boulder Dash® is a registered trademark of BBG Entertainment GmbH in the US, European Union and other countries. All rights reserved.
This is an official Boulder Dash® merchandising product under license from BBG Entertainment GmbH.