Click image to enlarge
Ghosts & Goblins - Panorama Print - C64
Try and impress your partner, who probably has zero interest in such things, with this gorgeous Ghosts & Goblins print. It's available in three sizes, ranging from, "Ooh-eer, that's a big one!", right up to, "Just where the heck do you think you're going to display that?!".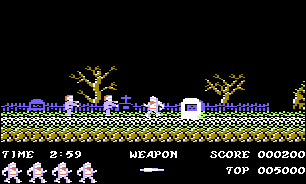 Original Versions
Print Sizes (inches - cm)
10 x 30" - 25.4 x 76.2 cm

12 x 36" - 30.48 x 91.44 cm

20 x 60" - 50.8 x 152.4 cm
This print is an unofficial product and is not endorsed by the rights holder. All trademarks belong to their respective owners.