I Recommend!
This is a list of my personal recommendations which will hopefully grow as time goes by!
If you're a fan of the Commodore 64 and are looking for a slickly produced, feature-packed fanzine, then Freeze64 is definitely for you!
FREEZE64 is a home-grown, A5 pro-printed, full colour, gloss, Commodore 64 gaming, cheat and coding fanzine, which you can buy and have sent to you wherever you are in the world.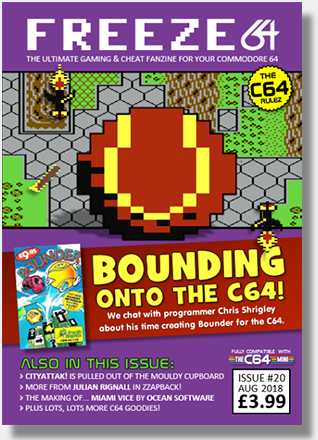 Each issue is full of C64 game news, mini game reviews, coder interviews (recent interviews include Jon Hare, David Darling, Andrew Braybrook, John Darnell, Gary Penn, Nick Taylor, Peter Liepa, Shaun Southern…) game ending reviews, desert island disks, special guides on game hacking, tips, revealing hidden game messages, exclusive POKES 'n CODES, and lots, lots more. If you love gaming on your C64 and want to learn more about cheating in games, as well as reading game reviews, features and interviews, then this is the fanzine for you.
Click HERE to order or subscribe to FREEZE64