Mario Bros. (c) - Arcade
Mario Bros., of course, isn't the first two-player arcade game, and it's not the first appearance of Mario either. It is, however, the first time the public gets to see his hapless brother, Luigi. 
This game has Mario & Luigi investigating the sewers of New York after reports of weird creatures being seen down there. This sets the scene for a cleverly designed platformer which sees you flipping over the baddies and then giving them a good kicking into oblivion. The control system does take some getting used to (it's slippy in those sewers!) but perseverance pays, and this is an especially fun game if you have a friend to play along with.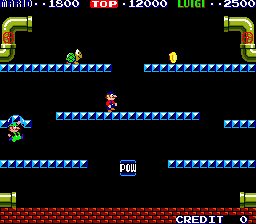 Original Version
Available formats:
Print
Framed Print
Mug
Mousepad
Print Size (inches/cm)
16 x 12" - 40.64 x 30.48 cm
Framed Print Size (inches/cm)
17 x 21 x 1.5" - 42.5 x 52.5 x 3.5cm - (print size 29 x 39 cm)
This item an unofficial product and is not endorsed by the rights holder. All trademarks belong to their respective owners.