Android II (b) - ZX Spectrum
Costa Panayi's early ZX Spectrum classic showed everyone that 3D games didn't have to play like a slug on sleeping pills! Great design and one-more-go gameplay make this a must-have Spectrum game.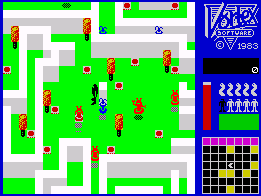 Original Version
Print Sizes (inches/cm)
12 x 10" - 30.48 x 25.4 cm

16 x 12" - 40.64 x 30.48 cm

20 x 16" - 50.8 x 40.64 cm

Custom Print Size
I can supply prints to your custom size requirements. Please contact me for a quote.

Framed Print Size (inches/cm)
17 x 13 x 1.6" - 42.5 x 32.5 x 4 cm (print size 29 x 20 cm)






This print is an unofficial product and is not endorsed by the rights holder. All trademarks belong to their respective owners.