Click image to enlarge
Spy Vs Spy Mug (a) - C64
Spy Vs Spy mug (White Spy).
Spy vs Spy was of course inspired by MAD Magazine's comic strip of the same name. This is another one of those rare beats on the C64; a tie-in game that is actually really, really good!
Two spies, one black, and one white are trying to get the better of each other, collect all kinds of different object, and avoid being beaten to death by the other, all set against a time limit.
This is a brilliant game and made all the better by virtue of it being able to be played by one player against a computer opponent, or even better, against a friend.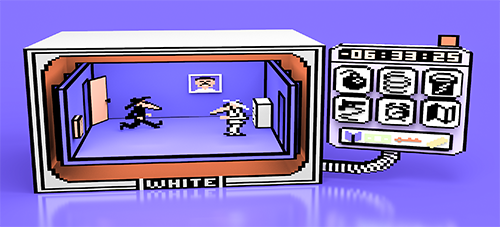 Mug Image
This mug is an unofficial product and is not endorsed by the rights holder. All trademarks belong to their respective owners.